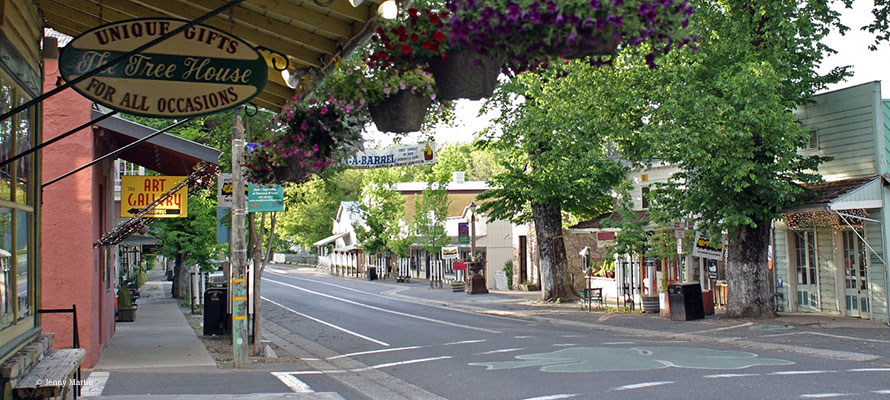 Calaveras County
For a memorable jaunt through some colorful California history while sipping a slew of delicious Zinfandels, set your GPS to Murphys in Calaveras County.
Here south of Lake Tahoe you will find a well-preserved gold mining town with its quaint main drag replete with literally dozens of winery tasting rooms, pubs, restaurants, and lounges that proudly feature wines from the local vineyards that are interspersed among the region's rugged ridges and valleys. Here you will also encounter the pioneer lore of the Murphy brothers, wagon trains, prospectors, and fortune-seekers that also became the subjects of essays by literary icons Mark Twain and Bret Harte – whose names are indelibly etched into Calaveras history.
Calaveras County was once a booming wine region rivaling Napa and Sonoma valleys that supplied the exploding Gold Rush population before the knockout punch of Prohibition in 1921. At an elevation of about 2000-3000 ft. above sea level, the 700+ acres of vineyards here get plenty of summer sun and cold nights and even a little wintersnow. The surrounding soils are a challenge to farm and for vines to grow in and run the gamut from granite to slate to volcanic to limestone. Calaveras' soils are "geological chaos" as one winemaker puts it. As a result, wine growing and winemaking in Calaveras is small-scale, location-specific and requires especially close attention. The high risk, high reward payoff is an remarkably diverse assortment of distinctive wines and over 50 varietals withdozens of Zinfandels that show juicy, plummy red fruit character and solid structure.
A suggested overnight itinerary is around the historic village of Murphys, where you can enjoy some Zinfandel immersion and some of the best hospitality in the Calaveras County region. We strongly suggest calling ahead for reservations and to check on each winery's visitation policies. We are allowing some flexibility for mountain-play! The area is famous for its giant Sequoia trees, awesome caverns, and all forms of outdoor recreation that are worth seeking out while you're there.
Day 1 – Zinfandel Stroll
To get to Calaveras County from the north or south Bay Area, allow about a 2 to 2 ½ hours drive. Once onto Highway 4 in Stockton, heading east, you pass through the aptly named Farmington then the rolling oak-dotted hills outside of Copperopolis where the Sierra Nevada Mountains start to rise. At Angels Camp, Murphys Grade Road takes you right to Main St.
For lodging, we suggest the historic and well-appointed Murphys Hotel operating since 1856 in the heart of town. Or for bed and breakfast refinement and luxury basically across Main St. you may prefer the Victoria Inn. A fun and popular alternative for small groups visiting Murphys is to rent one of the vacation homes that are walking distance to town. Go to www.Murphysvacationhomes.com to check on listings and availability.
This first Zinfandel day is all about strolling and tasting – and as a nice reset after your drive out to the mountains -you won't even need to get back into your car!
Stop 1
Hovey Winery Tasting Room
Start out on Main St. east and arrange for one of the tables on the park-like grounds that surround the restoredhistoric cottage that is the tasting venue for Hovey Winery (pronounced huv-vy). Chuck Hovey was a belovedCalaveras winemaker who set a new standard for foothills wines and whose name resonates around the region. Today a group of customers who grew to be Chuck's dear friends have taken on Hovey in order to ensure Chuck's eponymous winery, signature style, and legacy live on and are celebrated.
The tasting experience here is about relaxation. Kick back at one of the many tables and the happy staff, possibly one of the owners, will guide you and friends through a selection from among over a dozen varietals and blends. Favorite among them is the signature Hovey Zinfandel from the steep slope of the Dragone Ranch vineyard – a Calaveras classic.
Hovey also offers wines by the glass and the bottle to enjoy at your leisure while enjoying the peaceful gardens and spacious grounds. Contact the winery about the latest schedule for Hovey's popular Taco Tuesdays and Sippin' Sundays. If you're looking for tour tips and information, the Calaveras Winegrape Alliance center is just steps away up Main St.
Ready for lunch? Pop around to the back of the cottage for one of the gourmet sandwiches and maybe one of the craft brews at Murphys Pourhouse. For surprisingly excellent sushi, Doke Sushi on Main St. is adjacent to your next stop…
Stop 2
Newsome Harlow
Just up Main St. on your left is the domain of respected winemaker and Murphys native Scott Klann whose blends and Zinfandels are known as among the finest in the foothills. Small town – a mentor and wine guru for Scott was Chuck Hovey – one of the wine masters from whom Scott learned his craft. Named after his mother and partner's grandmother, Newsome Harlow is a family operation that sources prime Zinfandel from several noteworthy vineyards including Shake Ridge, Dalton Ranch, and Roland Rosario. With five single vineyard Zins, Newsome Harlow has established itself as a leader of the Zin category in Calaveras and every label has a vineyard story..
Appointments are required for a personal tasting in the secluded courtyard at Newsome Harlow. The friendly hosts, one of whom is Scott's daughter, Sydney, will guide you table-side through a selection to suit your particular tastes and interests. Coming soon in summer 2021 is a new Newsome Harlow project on the edge of town on a former nursery site where Newsome Harlow is building out a new Cellar Door visitor venue plus a vacation rental in a restored 5 bedroom 160 year old home. Contact the winery directly to find out about the Newsome Harlow grand opening.
While you're in Zin mode on Main St., Murphys and curious about tasting a few more excellent examples, you might pop into:
Hatcher
Literally steps away from Newsome Harlowe at 425 Main St. is Hatcher Winery's tasting room. Along with a Calaveras-style diverse assortment of varietals, Brothers Matt and Sewell Hatcher grow and produce five Zinfandels from their estate in nearby Angels Camp and other surrounding vineyards.
Milliaire Winery
Steve Millier and his wife Liz started making wine in their home in 1983 and then a converted gas station in Murphys. The Milliaire name has become a marquis brand in Calaveras. A consulting wine and vineyard expert on all things foothills, Millier's fingerprints are all over Calaveras wine. Specializing in Zinfandels from the historic Ghirardelli Vineyard in Calaveras County and the famed Clockspring Vineyard in Shenandoah Valley, Amador.
Stevenot Winery
The pioneering family of Calaveras helped found the new post-Prohibition era in Calaveras winemaking. Today the winery is owned and operated by members of the Oliveto distribution family that proudly continues the winemaking tradition started by Barden Stevenot.
When you're ready for dinner there are a surprising number of good choices in Murphys with a wide assortment of cuisine and indoor and outdoor venues. For excellent casual food, cocktail and wine-loving diners we suggest the same top recommendation as the local winery staffs – the garden setting at V Restaurant Bistro and Bar at the Victoria Inn.
Across Main St., the Historic Murphys Hotel is famous for its lively saloon and live music but the dining room features excellent traditional fare such as prime rib, rack of lamb and fried chicken. Fair weather diners can also enjoy an al fresco patio setting on the hotel's expansive back terrace. After dinner you might be in the mood for a beverage and some live music in the hotel's historic saloon.
Day 2 – Sightseeing!
Your second day in Murphys takes a little morning Zin-break and begins with some amazing sightseeing – after all, you are in California's Sierra Foothills, remember. There are a couple options: A short 1 mile trip up Sheep Ranch Rd. in Murphys to explore the geological wonder that is Mercer Caverns with its incredible underground limestone formations, or a half hour drive up highway 4 to Arnold to stroll among some of the largest trees in the world at Calaveras Big Trees.
Get a jump on the day and before heading out, a wake-up stop for the coffee-serious are the excellent coffees and pastries that can be found down Main St. at Gold Country Roasters.
Stop 3
Indian Rock Vineyards
After your morning adventure, stop by the Sierra Hills Market on highway 4 for picnic goodies before heading to your first winery stop of the day – Indian Rock Vineyards.
Only about a mile out on Pennsylvania Gulch Rd. at Indian Rock is the site of the historic Table Mountain Ranch that dates back to the 1800's and in later days was the film location of several Hollywood movies featuring stars such as Will Rogers, Henry Fonda, Janet Gaynor, and Edward G. Robinson. In even earlier times indigenous people used the ranch site for grinding acorns on the rock formations along nearby Coyote Creek.
The ranch raised horses, pigs and cattle, as well as tree fruits and walnuts and today the old milk barn has been converted to a spacious and rustic tasting room. Indian Rock's hands-on owners Dave and Wendy Bauer are living their dream of making a diverse selection of 16 varietal wines from their 40 acres of estate vineyards. NotedCalifornia winemaker and Foothills icon Marco Capellli crafts the Indian Rock wines that include a balanced and fruit-forward Zinfandel from the estate as well as one from Capelli's own Foothills vineyard in Fair Play.
Indian Rock with its sprawling lawn behind the tasting room by the trout pond is a perfect spot to enjoy your pre-packed picnic along with samples of the winery's wines. The tasting room also offers a range of picnic snacks.
Ironstone Vineyards
After lunch it's time for a short 10 minute drive out to Ironstone Vineyards. Head back into Murphys on Highway 4 and make the left turn onto Main St, then a left on Scott St., and then a left onto Six Mile Rd. Continue for about a mile. Prepare to be impressed – there is a lot going on at Ironstone: Estate vineyards, gardens, modern winery, cellars, wine caves, a restaurant, tasting room, visitor center, gift shop, an amphitheater, plus a museum featuring Native American artifacts and rare geological specimens. Incredibly enough, on display and weighing in at 44 lbs. is the priceless Kautz gold specimen – the largest specimen of crystalline gold in the world that was discovered at a mine in Tuolumne County as recently as 1992. The best way to take all of it in is to sign up for one of Ironstone's estate tours that takes you through all aspects of the estate.
The owner/founders are the John and Gail Kautz family whose farming tradition traces back four generations and whose family members run the day to day operations of Ironstone. Heading up the winemaking operations is a familiar Calaveras name – Steve Millier who is vice president and Director of Winemaking. Ironstone's vineyards in Lodi and Calaveras total 5000 acres from whichIronstone produces a diverse line of estate-grown wines and even a brandy. For an excellent Zinfandel, be on the lookout in the tasting room for the Ironstone's Old Vines Zinfandel or the Rous Ancient Vine Zinfandel that is made from grapes from the winery's 107year old vines in the Mokelumne River Appellation.
---
Hovey Winery Tasting Room
Newsome Harlow
Indian Rock Vineyards
Ironstone Vineyards
.