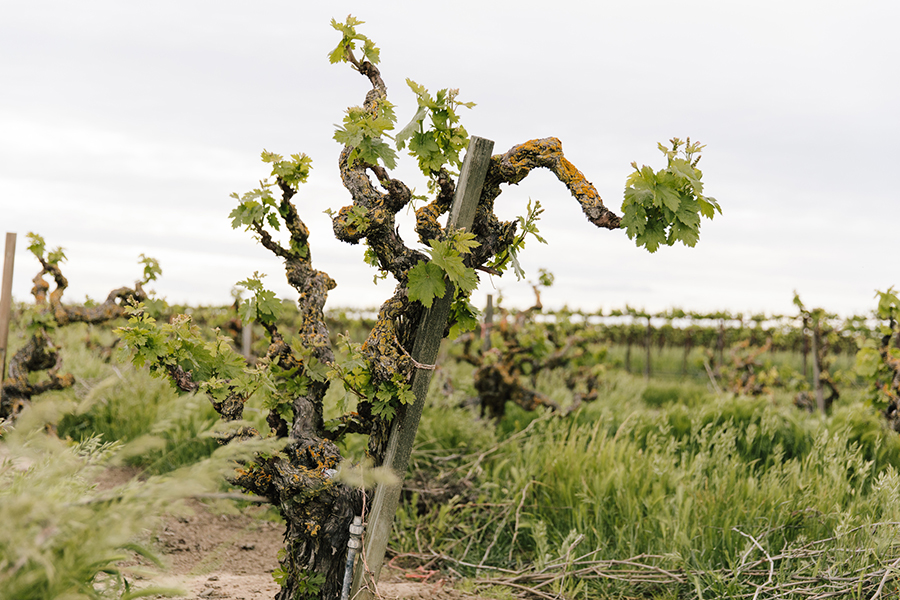 Lodi – Day 1
If you're inclined toward doing some immersion on Zinfandel history and exploration, and meeting some cool wine people with a very low snobby score – Lodi is your region! Not only are the Zinfandels recognized as some of the best examples of classic California fruit and terroir, they are amazing values that are produced by both new-wavers and some of the oldest and most down-to-earth families you will ever encounter in wine.
We selected six wineries that happen to fall within the one AVA that is the largest and best recognized – the Mokolumne River AVA. These producers represent many of the best of Lodi Zinfandel and offer visitor experiences that are rife with authentic farming heritage and personality. You will have a blast buzzing and Zinning around Lodi's chunky old vineyards, collecting bottles, and hearing the sweet stories from local family winemakers. And, you will no doubt want to go back for more!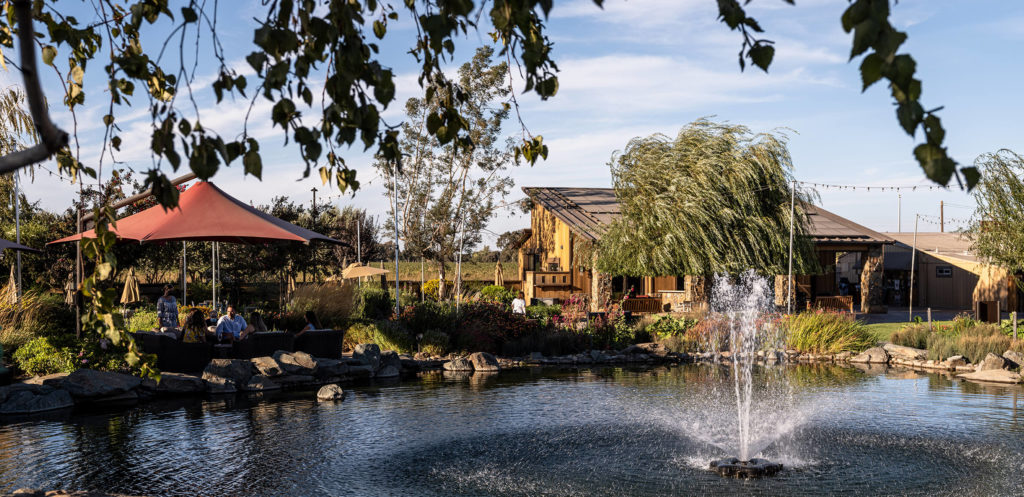 Stop 1
Michael David Winery
he Phillips Family – From Old Guard Farming to Wine and Food Destination.

Connect to Highway 12 east from Interstate 5, cross into the western edge of Lodi and you will immediately see that you have arrived in some serious grape country – vines, vines, vines stretching for miles in all directions.
Your first winery stop will be on the right, an old fruit and produce stand operated by the fourth generation Phillips family that has been updated and transformed into a lavish wine and food park where you could easily while away the hours sipping, snacking, and lounging to your heart and palate's content. The fruit and veggies are still available but add to that a full bakery, indoor and outdoor cafés, cascading waters, lake-side lounging, artisan pizzas, bocce, kid-friendly areas, table service, and even pick-your-own wildflower bouquets and you've got a fun start to your first day in Lodi.
Michael David produces a line of varietal brands under the direction of Lodi native and Wine Enthusiast's "2018 Winemaker of the Year" Adam Mettler. For the Zinfandel-focused you will be wanting to zero in on a Phillips family star called Lust – Michael David's luxury category Zin that is produced from the best lots from their Lodi vineyards.
Stop 2
Oak Farm Vineyards
The Panella Family Rejuvenates a Lodi Farming Landmark.

From Michael David turn right onto Highway 12 east and go one mile to DeVries Road and turn left. It's a straight shot 5.6 miles north on DeVries Road to where the DeVries family first settled and began farming back in the 1860's. The Panella farming family purchased the historically- significant property in 2004 and renovated and updated the vineyards and ranch while maintaining its feel of agricultural history. The 70 acre property is populated by DeVries' beloved ancient oaks and features William DeVries' preserved colonial farmhouse built in 1874. Much more than just a tasting room the visitor facilities, tied together with the modern-era winery, are expansive and open with glass doors, a cushy lounge, and porticos where you can picnic, purchase a glass or bottle, a patio for seated private tasting with salami and cheeses, and a roomy tasting bar where you can taste through the selection of interesting varietals deftly crafted by a two person winemaking team: Oak Farm's owner, Dan Panella, and Marilla Nimis Schrader. Lodi's highly-respected vineyard and winemaking guru, Chad Joseph, is Oak Farm's longtime wine consultant. Zinfandel of course is a signature wine at Oak Farm so in addition to the Lodi estate blend, be on the lookout for two ringers in particular- Hoenrieder and Mohr-Fry. Both are famous Zinfandel vineyard sources in Lodi that each produce their own unique taste profile. Arrange to take the Historical Legacy Tour so you can get the in-depth story of the property, the historic home, grounds, and winery operations.
Stop 3
McCay Cellars
Michael McCay- Blending the Best of New and Old Downtown.

Now, "head for the arch" and prepare to be impressed by some great wines in the coolest venue in town. Where else can you taste wines in a converted grape gondola – big wheels and all – and all the place's design features are wine artifacts and relics?
From Oak Farm, head 4.7 miles south down DeVries Rd. to W. Sargent Rd., turn left and continue onto W. Lodi Ave. to downtown. Turn left onto S. Sacramento and you will have arrived at McCay Cellars tasting room and wine lounge.
Gregarious and indefatigable, Mike McCay is a financial services pro who turned his attention full time to winemaking in 2007 to pursue his love of wine and prove his instincts true that the terrain and climate of Lodi are as suited to Rhône grapes as they are for Zinfandel.
To McCay, Lodi is a treasure trove of hidden old vineyards that have gone unrecognized. In 2011 McCay purchased the 10 acre old-vine vineyard planted in 1915 he named Faith Lot 13 Vineyard. This vineyard is officially certified as a historic vineyard by the Historic Vineyard Society. Visionaries and talented chance-takers such as McCay have forged the modern era of Lodi winemaking. Here you will find Rhône varietals, rosés, old vine Cinsault from the oldest vineyard in Lodi, and classic Zins such as his estate Faith Lot 13 and Trulux Vineyard. Comparing the two is a rare chance to see what winemakers see when they talk about east versus west Mokolumne River Zinfandels. McCay is a prime downtown location where you can arrange for a charcuterie board while sipping, take a historic town tour, and you will want to capture a Lodi memory with a pose at the iconic Mission Arch.
Michael David Winery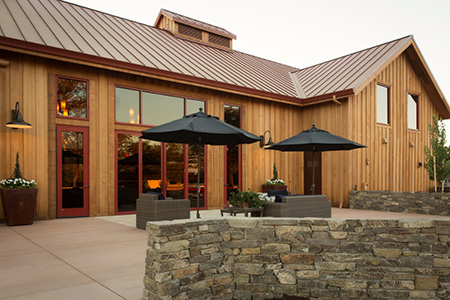 Oak Farm Vineyards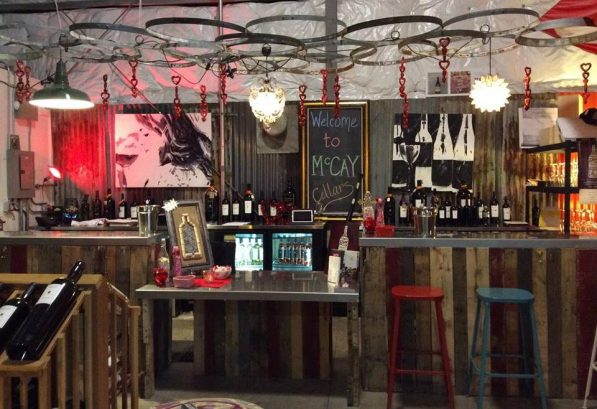 McCay
Cellars
The highly regarded Wine and Roses is an upscale hotel and restaurant complex on W. Turner Rd. that has become known as the Lodi area's finest property for luxurious accommodations, spa services, and fine dining.
The Farm Café at Michael David Winery is an excellent choice for more casual dining, while Pietro's on Kettleman Rd. is a winemakers' choice for excellent Italian fare.
A number of VRBO's are available in the Lodi area and are a great option for a roomy home away from home.
For more recommendations, maps, and information, visit or contact the Lodi Visitor Center on N.
School St. in central Lodi.
---
Lodi – Day 2
Stop 1
Harney Lane Winery and Vineyards
Home Grown. The Lerner Family Tradition.

From downtown Lodi, S. Sacramento St., head east on Kettleman Ln., turn right on N. Alpine Rd., then turn left on E. Harney Ln. Here you will start your day at the home of one of Lodi's most historic family wineries, Harney Lane Winery.

Jorja Mettler Lerner was born and raised on this historic property that has its roots back five generations. That is some real Lodi cred! Before that it was the pioneering Joseph Harney family from Switzerland that raised grapes there – hence the winery name. Jorja hails from a branch of the ubiquitous Mettler clan whose farming history is so well known in the region. Her parents raised all sorts of crops on their 120 acres but they got serious about producing a small lot of commercial wine in 2006 when her husband Kyle, with his extensive business education, started taking a shine instead to working the land and raising grapes with Jorja's father, George. Kyle the businessman, George the old-school farmer, Jorja the marketer, all three with an unbounded work ethic. After patriarch George's passing the Lerners remain stewards of their legacy and their land – tireless and committed to quality.

Today the Lerners farm 500 acres, 120 of it their estate, selling out of their small production estate wines made by Kyle and consultant Chad Joseph, while doling out most of their many varieties of grapes to outside winemakers. One estate vineyard is an HVS certified historic vineyard they named Lizzy James after their now-sixth generation children. Lizzy James Vineyard was planted in 1904 and, like other legendary old vine Zinfandels of east Lodi, shows depth and concentration while maintaining the characteristic elegance that these deep sand soils impart.
Another vineyard-named Zinfandel is Harney Lane's Scottsdale Vineyard, known as the "blueberry vineyard" for its characteristic blue fruit profile.
When visiting the tasting room don't miss taking a stroll among the old Mettler estate's gardens and pausing near the grand fountain to take in the majesty of the property's giant Deodora cedars. In fact, following your guided tasting, purchase a glass Zin, order a cheese platter and take a moment to drink in the history of this special Lodi landmark.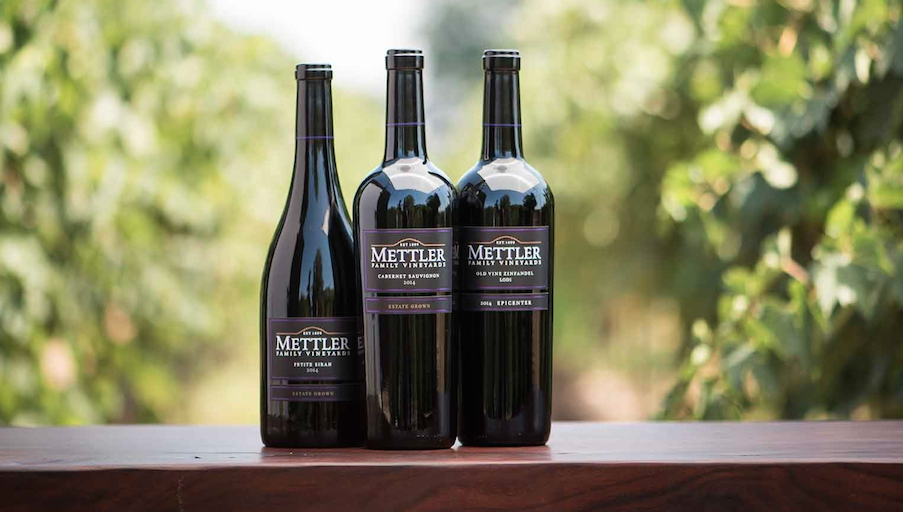 Stop 2
Mettler Family Vineyards
Deep roots in Lodi – The Mettler family wine-growing tradition.

Next stop, easy one. From Harney Lane Winery turn right and head west for less than a mile on East Harney to another vineyard farming landmark – Mettler Family Vineyards.
Counting the family lineage starting from Alsace, Germany (now France), that adds up to eight
generations of wine-grape farming! Quite the wine pedigree, indeed.
There are several branches of Mettlers in the region and this particular one is headed up today by Lodi farming legend Larry Mettler and his wife Charlene Mettler. Larry's Lodi farming roots trace back to 1899 in Lodi where he has been a longtime leader and innovator in the Lodi farming and wine community. A family winery in the fullest sense, their children, Kim Mettler Eels is the General Manager of the family winery and son Adam heads up winemaking along with his other role as wine director for Michael David Winery. Kim's husband Jason Eells is vineyard manager. Kelli Mettler Costamagna heads up sales. Every aspect of the family businesses including their vineyard company, Arbor Vineyards, is run by the family.
Dedicated to the health of the land and wine grape quality, the Mettler's operate under Lodi Rules green practices as well as being CCOF – California certified organic vineyards.
A visit to the welcoming estate tasting room and picturesque grounds framed by the vineyards is an opportunity to catch up on the new wave of Lodi's diversified wine making that includes multiple Italian, French, and Spanish varietals produced directly from the family's estate vineyards. Be sure to taste and secure some of The Estate Old Vine Zinfandel which is a Lodi classic and a tremendous value. The Mettlers welcome picnickers and make their estate available for weddings and special events.
Stop 3
Berghold Vineyards
Small Production wines from family estate vineyards.

From Mettler Vineyards, turn left onto E. Harney Lane, make a left onto N. Alpine Rd., turn left on Kettleman Ln., turn right back on to N. Alpine, then turn left onto E. Victor Rd. and look for the impressive grapevine iron gates and the grand entrance to Berghold Vineyards. Berghold is a family-owned winery that all started with the family purchase of a house that happened to come with an old Tokay vineyard that was deemed worthless. One thing led to another, the vineyard got replanted, winemakers started asking for their new grapes of European varieties, more contiguous acres were added, and finally in 1999 owners Joe and Kay Berghold's winemaker son Miles made an estate Syrah at his close family friends' winery – Thomas Fogarty.

In 2005 the Bergholds opened their showplace winery at the estate vineyard where it has become the cellars of craftsman winemaker Miles Berghold and his wife Julia – as well as a showcase for one of the most significant collections of Victorian antiques in the country. The elaborate tasting bars themselves are impressive works of old world craftsmanship.
The Christmas spirit abounds at Berghold!

The tasting room has become a destination for lovers of all things Christmas as Julia and her mother-in-law every year go all out to decorate the spaces with personally hand made father Christmas figures in elaborate dress – some life sized- as well as holiday-themed artifacts, relics, and crafts from all over.

Unusual in Lodi terms, the Berghold Zinfandel is grown on the replanted estate vineyard that borders the grand entrance to the winery. Only about 5000 cases of Berghold estate wines are produced annually. About 30% of this production is Zinfandel. Miles incorporates the taste of the Mokulemne River terroir into this rich but restrained and balanced wine.
All of the winery's excellent small production wines are sold directly through the winery – a good excuse to visit and enjoy the winery's unique ambience and expressive wines.
.